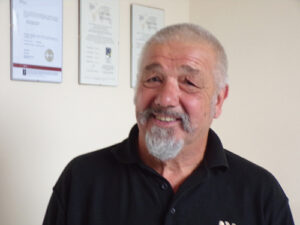 Jacks Golds is Director at Eagle Security Systems in Derbyshire. With over 40 years in the industry Jack set up Eagle Security as a one-man band in 1983. Company accreditations include NSI Gold for Gates and Barriers, Access Control, CCTV and Intruder Alarms; Gatesafe, DHF powered gate division, Automatic Door Suppliers Association; NICEIC Approved Contractor and Domestic Installer Scheme.
Do you use a distributor or buy direct?
This depends on the product, we have a very close relationship with a number of manufacturers. Many of the products we use are manufactured in the UK and are not readily available through distributors. We use distributors for the day to day sundry items. Through their buying power distributors are quite often able to offer very competitive prices on popular items.
Is third party accreditation beneficial to your company?
Yes most definitely. We saw the value of third party accreditation many years ago. We have held Nacoss approval since 1994 when it was then the National Approval Council for Security Systems. Although most firms will endeavour to meet the standards, we find it comforting to know that work is being audited from someone outside the company. It is nice to have the independent confirmation that comes from the NSI visit. Our most recent achievement is to be accredited NSI Gold for gates and barriers. As well as highly trained security engineers we also employ fully qualified electricians and are accredited with NICEIC. We hold the ISO 14001 for environmental management systems and the OHSAS 18001 for Health and Safety Management Systems. I do feel the NSI should fly the flag and make the public aware of the work they do. In many industries it is not possible to trade unless the company is part of a trade approval organisation which will ensure the standards are adhered to, but in a very complex industry like ours, compliance to the standards is voluntary.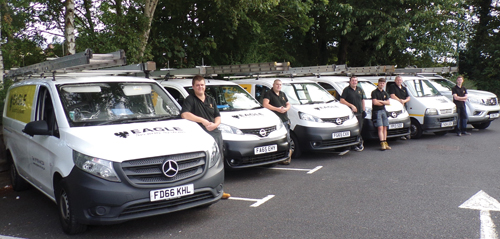 What would be a typical project for you?
One of the exciting things about Eagle Security is there is no such thing as a typical project. In the past few months we have completed domestic alarm systems in two bedroom terraced houses. An alarm and CCTV system in a cathedral. A large CCTV system with 25 cameras covering the road system on a large industrial estate on both sides of the M1 motorway. We have installed and we maintain access control systems for a number of sensitive sites for organisations with presence throughout the East Midlands. We have installed and we maintain several perimeter systems consisting of fence guard detectors, electric fencing and automatic pan and tilt cameras. Possibly the only constant is fire alarms. Although each engineer will have his own speciality, they are all cross trained and they work on multi disciplines. Even the routine maintenance is varied with the service engineer visiting anything from domestic to large commercial and industrial sites.
Are there any common requests from customers that give you problems?
Every customer is an individual with their own requirements and expectations. We pride ourselves in our flexibility and our willingness to supply the client with a quality system to meet their needs. Over the years that we have been trading there are few problems that we have not encountered. With the technology we have available today and a little research we can usually find a suitable solution. The limiting factor is usual the financial budget.
Read the full interview in the November 2018 edition of PSI magazine