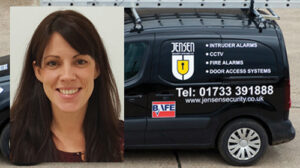 Katy Stewart is the Company Director at Peterborough-based Jensen Security Systems. Areas of expertise for the company include intruder, fire, CCTV, door access and emergency lighting. The business is NSI Gold accredited for the design, maintenance, installation and commissioning of intruder alarms, CCTV systems, door access systems and fire alarm systems. Engineers are BAFE qualified for fire extinguisher maintenance and the NICEIC domestic and commercial certificates allow the undertaking of all electrical works.
Do you use a distributor or buy direct from manufacturers?
We use both. We have good relationships with local suppliers and we provide product training to many in Peterborough and the surrounding areas.
Is third party accreditation beneficial to your company?
Our accreditations and certificates are very important as I know that we would not even be considered without such recognition for a lot of the larger projects that we have. Accreditation proves that we work to high standards and can deliver a high level of service.
What would be a typical project for you?
We don't really have a typical project as the work we do can range from the installation of a small domestic intruder system to providing large shopping centres, council buildings or MOJ buildings with a range of security systems and services.
Are there any common requests from customers that give you problems?
Like many companies we have customers that expect their systems to be installed the very next day! Another problem comes from the widespread availability of information on the Internet. Customers see a price on the Web and expect that to be the cost no matter the specific requirements of the installation.
What would make your job easier?
A few things spring to mind. Firstly, I would say that there needs to be standardisation in intruder alarm training and secondly, life would be much easier if there were more qualified and experienced engineers in the industry. I also think that we would benefit from clearer tender requirements such as product quantities in the original plans.
Read the full interview in the February 2017 edition of PSI magazine