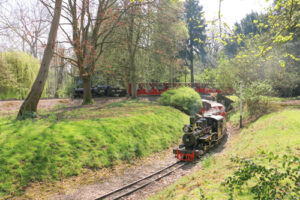 A Wisenet video surveillance system manufactured by Hanwha Techwin is being used by the operators of the Audley End Miniature Railway to ensure that the 100,000 plus people who visit the Railway every year are able to safely enjoy the facilities.
Originally installed as a replacement for an old analogue CCTV system following a number of security incidents, the new IP network based Wisenet system is now also being used to keep a close eye on the trains moving around the 2.4 kilometre track and visitor car parking areas. In addition, it is also helping with the management of the queues of people waiting to buy tickets and to ensure compliance with health and safety regulations.
The video surveillance system, comprising 14 cameras and NVR, has been installed by Eastern Voice and Data, who also designed and installed the Miniature Railway's network and Wi-Fi.
Among the 14 cameras installed are five QNO-7030R bullet and six QND-7010R dome cameras. These are all able to capture 4megapixel images of objects regardless of the lighting conditions, with the help of built-in IR illumination.
Part of the Wisenet Q camera series, the cameras also feature defocus, motion and tamper detection, hallway view and lens distortion correction, whilst support for PoE has negated the need for Eastern Voice and Data to have to provide separate power supplies and cabling to each camera location.
Images captured from all the cameras are recorded and stored on a 16-channel Wisenet XRN-1610S NVR, which is equipped with a PoE switch.
"Our old CCTV was well past its 'use-by' date and lacked the functionality required to help us maintain a safe environment for our visitors and staff, as well as deter would-be intruders and vandals," said Bob Ottaway, General Manager of the Audley End Miniature Railway. "We are now able to closely monitor all activity throughout the site during opening hours, and with the help of the Wisenet Mobile App, we can also be remotely alerted via smartphones and tablets to any suspicious activity when we are closed."