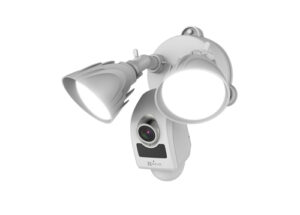 EZVIZ has launched a smart home security device to help families and business owners sleep soundly in the knowledge their outside spaces are being monitored. Designed to be installed by a professional, the EZVIZ LC1 CCTV camera's motion-sensitive floodlight can be set-up to illuminate overnight intruders as well as acting as a deterrent.
The floodlight includes a PIR human detection system which will reveal intruders with a 2500LM floodlight. The 270° sensor also ensures intruders from all angles cannot avoid detection; even if attempting to do so through sneaking alongside a wall or below the floodlight itself. The product has been designed to connect to an existing outdoor light or be installed as a completely new unit; in both instances professional installation is recommended. The lights will activate upon motion detection and coverage area can be adjusted via the EZVIZ app. Lights can also be manually turned  on and off, as well as change the brightness of the lights via the app.
Compatible with Amazon Alexa, Google Assistant as well as IFTTT, the floodlight is designed to link with the home's existing smart home devices; including EZVIZ smart alarms. The CCTV camera has its own built in 100DB alarm which will be activated if there is any unexpected movement to notify the home owner. Users can also monitor their home whenever and wherever using the accompanying app that lets them view, listen and speak to visitors or pets from a smartphone, PC or MAC thanks to its two-way talk function. Integrated with infrared technology, the device also filters out background noise for enhanced voice quality. The internal waterproof MIC supports audio pickup within five metres and video recording with sound via the app. In addition, the push notification option alerts home owners to any disturbances or suspicious behaviour.
Additionally, users can also set schedules, create detection areas as well as review and share live footage or playback previous filming. The floodlight holds a MicroSD card of up to 128GB for local storage of footage or users can sign up to the EZVIZ Cloud Storage system (subject to subscription costs). The outdoor camera has an IP65 enclosure rating.