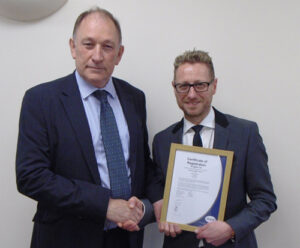 SSAIB has certificated its registered firm, MRP Alarms, to the latest ISO 9001 quality management systems standard. Importantly, while Harrogate-based MRP Alarms was already audited to the previous (2008) version of ISO 9001 for the installation of wired and wireless intruder alarm systems, it sought certification to this updated ISO 9001: 2015 standard as part of the company's commitment to quality assurance for its residential and commercial customers.
MRP Alarms owner Mark Peretti comments that its fresh accreditation to ISO 9001:2015 demonstrates: "our commitment to the highest standards of quality assurance, which underpins everything we do and helps to ensure we maximise our customer service levels. This management system standard also offers benefits though our increased efficiency and improved business performance".
SSAIB Chief Executive Alex Carmichael adds that SSAIB's UKAS accreditation to certificate organisations against the latest ISO 9001:2015 quality management systems standard will enable existing SSAIB registered firms to update their own existing ISO 9001:2008 accreditation to this latest standard by the deadline of September 2018. The latest edition is less prescriptive than its predecessor, focusing instead on performance, and the 2015 version is designed to be easily integrated with other management systems.