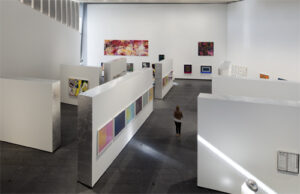 The newly-built Serlachius Museum in Finland is benefiting from a video surveillance system powered by March Networks Command Professional video management software and capturing video from more than 90 IP cameras located throughout the facility. The solution provides the museum with oversight and awareness of visitor movements and will deliver video evidence in the event of an attempted theft.
The museum comprises three exhibition spaces, a restaurant, a festival hall and a museum shop and it sits adjacent to Gösta Manor. The video system has been designed to cover the Manor, the new Pavilion which houses the museum's collection of Finnish and European masterpieces and a glass-walled passageway which connects the two buildings.
Thirty-six March Networks MegaPX WDR NanoDomes and WDR MiniDome Z cameras cover the interior of the Pavilion, capturing images during the day when bright sunlight streams through the glass-walled structure, as well as in near-dark conditions at night.
Video from Gösta Manor is captured by 16 analogue cameras that were part of the museum's previous video surveillance system, while 28 Infinova T Series bullet cameras record activity in the sculpture park, parking lot and other outdoor areas. Several Power-over-Ethernet switches provide power to the cameras.
Live video from selected cameras is available for viewing at the museum's reception area, and authorised museum employees are able to watch live or archived video from their own workstations using March Networks' browser-based Command client.