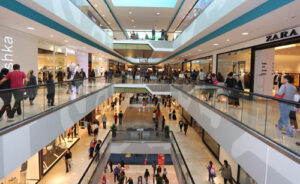 Bosch Security Systems has been chosen as the central supplier for the security systems at the galaxy-themed Marmara Park Shopping Centre in Istanbul. Space-related lighting, planet models and a theme park for visitors form the individual identity of the shopping centre. The networked and integrated security solution from Bosch comprises fire and voice evacuation systems, video surveillance, access control, and intrusion detection. All of these systems are centrally managed and operated via Bosch's Building Integration System.
With a total floor space of 100,000 square meters, 250 individual shops and restaurants, a hypermarket, a cinema complex and parking for 4,000 cars, Marmara Park serves approximately 40,000 customers per day.
Bosch partner Entegre designed a modular and scalable security system for the centre that meets the standards as set in norm EN54. The fire alarm system consists of four networked Modular Fire Panel 5000 Series with 59 loops supporting more than 5,000 fire detectors. It is integrated with the PRAESIDEO voice evacuation system which can also be used for announcements and background music in normal operations. This system with 64 amplifiers supports 140 independent zones, allowing targeted messaging in case of an evacuation.
Video surveillance of the premises has been realised using almost 300 cameras and 18 digital video recorders. In addition, Entegre installed an access control system for non-public areas within the centre as well as the addressable intrusion detection system Modular Alarm Platform MAP 5000 with more than 1,000 detectors. This allows the operator to locate every alarm in real time, enabling fast response to any incident. The same holds true for the panic buttons which have been installed in all of the shops. Being an integrated solution, the entire security system can be configured and operated from one central location or distributed consoles.