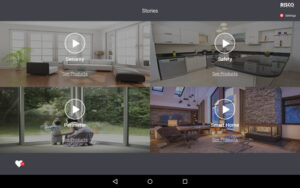 RISCO Group has announced the release of AppSell, a tool designed to help installers sell security and smart home solutions.
The app utilises a set of interactive videos showcasing scenarios from everyday life pertaining to the challenges of home security and safety.  AppSell aims to help installers and sales people upsell during a prospective customer meeting.
The app includes a practical set of tools with the ability to demonstrate usage of devices and systems, simulating remote services and generating and immediately sending a price quote.
UK Head of Sales, Ian Stones commented: "AppSell is designed to make sales meetings more productive and efficient. Installers can expect to dramatically increase sales potential and deal closing ratios."