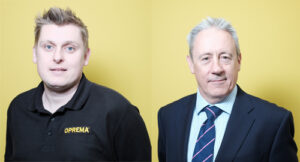 Oprema has strengthened its sales team with the appointment of Carl Scarrott as Business Development Manager and Nick Blake as Internal Sales Executive. The distributor has also announced two internal employee promotions, with Kate Green moving into the role of Internal Sales Supervisor and Lee Alm taking on a Technical Support Supervisor role.
Carl Scarrott has over 25 years' experience in the security industry and prior to joining Oprema was Area Sales Manager – South East at Pro-Vision. Carl also spent ten years at Norbain and during his time in the security industry has gained varied experience spanning installation engineering, electronic engineering, project management, technical support, sales and key account management, as well as business development. In his new role as Business Development Manager, Carl is responsible for managing Oprema's existing customer base and, crucially, developing new customers into long term business partners.
Joining Oprema from ADI Global, where he has been working in sales for the past two and a half years, Nick Blake has been appointed as Internal Sales Executive. In this role, Nick is responsible for building new business relationships and managing existing accounts, providing quotes and taking orders.
"We're really pleased to welcome Carl and Nick to our sales team," comments Gareth Williams, Sales Director at Oprema. "They both bring fantastic enthusiasm and varied experience which is of great value to our customers and strategic partners. Carl and Nick are joining Oprema at a very exciting time of growth for the company, and we're all looking forward to working with them to further strengthen our offering to customers."
Commenting on Kate and Lee's internal promotions, Matthew Epps, Managing Director at Oprema said: "Both Kate and Lee have proven to be successful in adding value to our customers and exceeding expectations in their current roles. They are highly valued members of the team and we can't wait to see what they can achieve in their new roles."