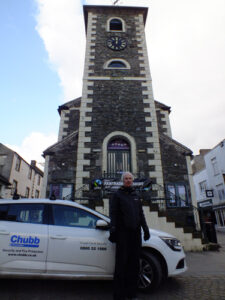 Chubb Fire & Security is helping the Town Council in Keswick to combat crime and reduce anti-social behaviour in the town centre with the installation of a new high-definition CCTV system at The Moot Hall.
The Moot Hall, originally built in 1571, is a Grade II-listed building located at the southern end of the main street in Keswick town centre. It was identified by the council as the best location for a new CCTV system due to the number of crimes in Keswick tied to the market square.
Lynda Walker, Town Clerk at Keswick Town Council, said: "It was clear to the council that the lack of CCTV was causing problems for Keswick police, so we hope that this new system will provide them with greater assistance."
Chubb has installed four high-definition CCTV cameras, positioning one camera on each of the corners of the building to maximise the coverage area. Designated Keswick Town Council employees can access the footage remotely at any time as required.