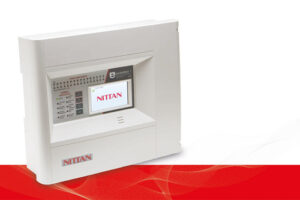 Nittan Europe has launched the evolution 1 range of fire alarm control panels which offer compatibility with the range of Evolution detection and alarm devices.
Compliant with BS EN54 part 2 and 4, the evolution 1 panels have separate dedicated menus for the user and installer and feature a 4.3 inch LCD touch screen display and an intuitive menu structure. The evolution 1 panels have the capability of running up to 254 devices on the loop, while the flexible architecture means everything from a single stand-alone panel, to a 16 panel network can be achieved without any additional hardware.
evolution 1 panels have up to 254 zones with the first 16 zones indicated by LED. The panels also have Cause and Effect capabilities and, like most addressable systems, allow programming of the sounder outputs. Furthermore, the Cause and Effect matrix can be set up via the onboard touch screen and menu structure or using the PC tools and downloaded to the panel.
The panels have two configurable rs485 ports for connection and support up to eight separate password protected users as well as a built in TCP-IP port – this is intended for future developments such as remote access to the panel for authorised service companies.