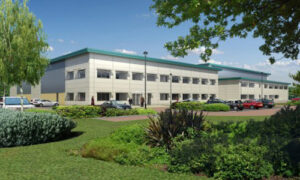 Kentec gas extinguishing fire safety panels are playing an important role helping protecting Specsavers' new £12 million West Midland manufacturing and distribution centre.
The fire safety system, designed and installed by Leader Systems comprises Kentec K11031 M2 Sigma XT automatic three-zone extinguishant control panels with Apollo conventional Series 65 devices plus conventional sounder/beacons and bells from Klaxon Signals.
The new Specsavers' facility at Kidderminster, Worcestershire will combine the company's existing operations in the area, and will allow the company to double capacity with room to grow in the future. As part of the firm's existing Kidderminster operations, Specsavers' International Glazing Services business glazes customers' frames with prescription lenses for stores in Northern European countries. The Lens Online business stocks and distributes lenses and contact lenses to stores in the UK and Ireland.
Kentec's Sigma XT features three detection zones as standard, where any zone or any combination of zones can be configured to release the extinguishant gas and allows delay in first stage sounder and detection to be configured, with an instant release facility by using the manual release option.