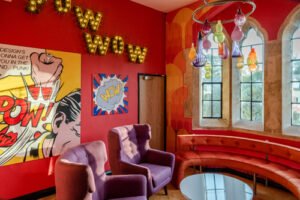 A Star Wars themed cinema, a library that has a secret passage in the bookcase, Rolling Stones themed bathrooms and TVs and Apple iPads in every room are just some of the features of money.co.uk's new headquarters. Located in a 10,000ft² Grade II listed Victorian castle on the Bathurst Estate in Cirencester, the building provides a unique workplace setting and the interior, designed by Laurence Llewelyn-Bowen.
APE Fire & Security was asked by the main contractor for the project, Interaction, to design, specify, install and commission a fire detection system that could protect offer staff and visitors.
The Notifier by Honeywell Pearl networkable fire detection control panel is linked with Opal photoelectric smoke detectors. In the kitchen areas, SMART3 detectors are used, which utilise optical smoke sensing in conjunction with heat sensors, infrared flame sensing technology and alarm algorithms to offer a fast response to flaming fires while providing unwanted alarm immunity.
Via cause and effect programming, APE Fire & Security was able to integrate the Pearl control panel with the existing intruder and access control system.
Peter Leonard Director at APE Fire & Security said: "For a building like this it is vital to maintain its fire safety and intrusion integrity, and that means making sure that doors and access points are closed when they should be. Now, if doors are propped open, certain areas are alerted through the fire detection sounders using an alternative tone, which is programmed through the Pearl panel. Occupants can then take action."
Joe Francis, Head of SEO at money.co.uk, concludes, "While it's the style and décor of the castle that catches the eye, we also value the technology that is in place to protect us. By using Notifier's products, APE Fire & Security has complemented the aesthetics of the building."