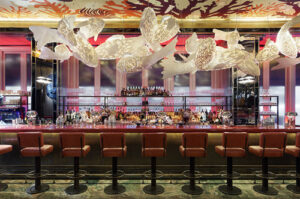 Two of London's most exclusive restaurants are now protected by fire panels from Advanced. Both The Ivy and Sexy Fish in Berkeley Square, which are both owned by Caprice Holdings, have been fitted with MxPro 4 fire panels.
The Ivy has recently been subject to a full refurbishment, overseen by the Martin Brudnizki Design Studio. The work included an overhaul of the building's fire system by ROC Solutions, who also installed the system at Sexy Fish, as well as the existing fire panels in The Club at The Ivy.
Dean O'Brien, Director at ROC Solutions, commented: "The Ivy project was not only high-profile, but also logistically challenging, working around the quick refit schedule and interfacing with the neighbouring The Ivy Club, which remained open. In comparison, installation of the new system at Sexy Fish was not quite so complex, but still just as vital.
"Careful planning was needed to ensure that the fire system components did not encroach on the finishes in each establishment, while the Sexy Fish system needed to be integrated with the existing network in Berkeley Square House."
The Ivy system which is integrated with the existing EMS radio system in Ivy Club, covers both the public and private areas of the West End restaurant, including the dining rooms, kitchens and other back of house areas, while the new fire system at Sexy Fish covers all areas of the Mayfair restaurant.