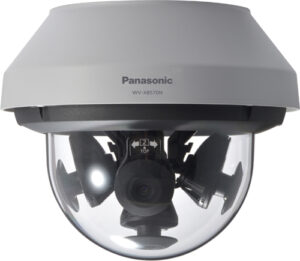 The i-PRO Extreme H.265 quad multi sensor camera from Panasonic is equipped with four repositionable lenses each with 4K (or FullHD) image sensors, reportedly capable of offering clear images of fast moving objects like vehicles.
This camera delivers 4K (3840×2160) at 15fps or Full HD at 30fps pictures and is equipped with iA (intelligent Auto) and ClearSight Coating, making it suitable for capturing evidential grade images even under the most challenging of conditions, such as use in city surveillance and traffic applications.
According to data from Panasonic, despite of the high resolution of 4 × 4K, the bit rate achieved is lower than the one for one single 4K camera of H.264. By dynamically controlling the frame rate in addition to the refresh interval (depending on the presence or absence of motion), the bit rate at the time of scene shooting without motion is further reduced.
The FIPS 140-2 Level 1 compliant unit also features secure communication by pre-installed Symantec certificate to enable video tampering detection.