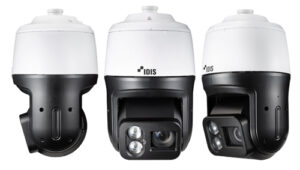 IDIS has extended its DirectIP camera range with the introduction of the 2MP 36x Lightmaster IR PTZ outdoor-ready camera.
The DC-S6283HRX Lightmaster camera benefits from IDIS' signature true plug-and-play, one-click configuration and features 36x optical zoom, IR up to 350 metres, true wide dynamic range (WDR), digital image stabilisation (DIS), a built-in heater and a vandal proof casing.
"Designed for 24/7 accurate pan/tilt/zoom operation this new Lightmaster PTZ camera delivers exceptional detail when zooming. The camera is equipped with a variety of intelligent features and can move between pre-set positions and zoom in automatically in response to detected events. The result is maximum protection for a wide range of applications," said James Min, Managing Director, IDIS Europe.
The user experience is enhanced with IDIS Smart UX Controls, which is listed as a simple to use interface featuring intuitive slingshot and rubber-band style controls. Operators can smoothly  follow moving objects in real-time with accuracy by panning images at different speeds and in different directions by using a CTRL button and mouse combination.
The camera uses H.264 and H.265 combined with IDIS Intelligent Codec to deliver bandwidth and storage savings and benefits from low Power over Ethernet (PoE) energy consumption.
The risk of gaps in footage is eliminated with IDIS Smart Failover. In the event of network instability, the camera automatically records to an integral 256GB SD card and transfers data to the network video recorder (NVR) once connection is restored, which avoids the need for engineer call outs to retrieve footage.