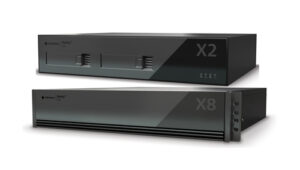 All NVRs in the Milestone Husky X series utilise hardware accelerated video decoding for server-side motion detection to increase performance and camera capacity.
The Milestone Husky X2 is a plug-n-play network video recorder with a built-in PoE switch and input/output panel. With a verified continuous recording rate, it provides the power and scalability required in most small to mid-market surveillance installations. The Milestone Husky X2 comes with pre-loaded XProtect Essential+ VMS, allowing everyone to start right and be able to scale up their license according to need.
The Milestone Husky X8 is a network video recorder for the high-end market, offering performance and reliability with component, storage and application redundancy, ensuring continuous uninterrupted operation. Leveraging the XProtect video management software, hardware-accelerated video processing and Western Digital Purple HDD technology, the unit offers a capacity of more than 300 cameras with server-side motion detection.