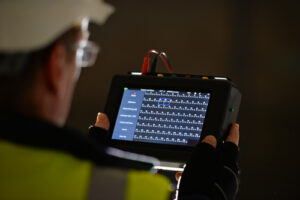 Apollo Fire Detectors has launched the Apollo Test Set a portable testing device designed to help commissioning and system maintenance engineers.
The Test Set has been created to allow the commissioning and fault-finding of Apollo devices interrogating and controlling all units connected to the device, either as individual units or complete circuits.  With a touch screen display the system works on all of the Apollo analogue addressable protocols – XP95, Discovery and CoreProtocol.
The main function of the Apollo Test Set is to help engineers guarantee the correct loop configuration is in place before an active control panel is installed. To do this, either the loop or individual addresses can be connected to the unit using loop connection ports located on the top of the device for easy access. The device also has the functionality to test the diagnostics and integrity of the loop to discover earth faults and other system weaknesses.
The system allows the user to interrogate the devices in different ways. The standard view allows devices to be scanned and controlled through the manipulation of their output. Devices can also be self-tested and the different functionality modes can also be controlled. To further ensure portability and ease of use, the Test Set can be powered from an AC mains charger unit or by its own internal batteries.
Ed Browning, Sales and Marketing Director at Apollo, commented: "We are very excited to launch our new Apollo Test Set, which will greatly assist engineers working with Apollo systems – making their life easier in the field, reducing their on-site time and cutting project installation and maintenance costs."