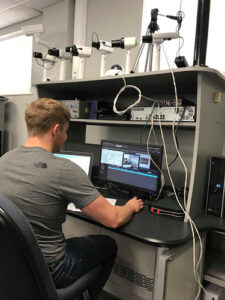 Tavcom Training is celebrating its 25-year anniversary with the opening of a training centre. Developed in partnership with CrossConnect Training, the centre in Shipley, West Yorkshire is located to meet all the training needs of security professionals in the North of England.
With two teaching facilities in the UK (Hampshire and West Yorkshire) and a portfolio of online interactive courses, Tavcom aims to make it easier for security professionals at all levels, to access its security systems training courses.
Managing Director of owner Linx International Group, David Gill, states: "We need to make the right training available, accessible and affordable to all. This new centre replicates the facilities at our facility in Hampshire."
Technical Director at CrossConnect Training, Geoff Crossley comments: "We are really looking forward to the opening of our new training centre, and excited by the opportunity to work closely with Tavcom Training."
Both future-proofed centres are fully equipped with the technical infrastructure and equipment (Tavcom is vendor agnostic) required to deliver a portfolio of more than 100 training courses. The new centre will welcome students in June and July, when it runs the BTEC Level 3 courses Practical CCTV installation and Practical Intruder Alarms.