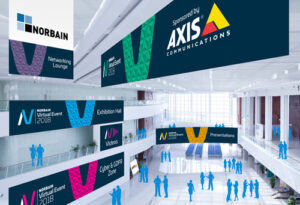 Norbain has announced that it will be launching a virtual event to be held on Tuesday 5th June. The on-line event has been developed so that visitors can benefit from the advantages of a physical exhibition, but at a time and place convenient to them.
Just as with a physical event, visitors will be able to keep up to date with developments in the industry, speak with suppliers, network, watch videos and presentations and use their event bag to take away useful resources.
As well as being able to visit suppliers' stands, the launch on 5th June will give visitors the opportunity to watch a range of presentations from industry experts focussing on cyber security and GDPR.
Mark Field, Commercial Director for Norbain SD, comments: "Although physical exhibitions and roadshows are still relevant, it's becoming increasingly challenging to justify the time and expense involved for visitors and suppliers alike. Face to face networking will always be a part of our strategy, but Virtual Event allows us to offer a very accessible alternative."
Norbain will continue using the site across the year to run a range of events on a number of different themes – all focussed on topics that are key to the industry. When the platform is not being used to run live events, it will still be available to visitors, allowing them to take advantage of resources.
To find out more or register for the event visit here