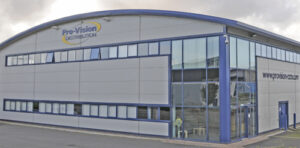 Nortech has announced the appointment of Pro-Vision Distribution as an official distribution partner and revealed new training courses to raise skills and knowledge.
Nortech's products have been included in Pro-Vision's catalogue for many years but this new agreement will provide installers and system integrators with the complete range of Nortech access control and parking solutions, ex-stock backed up by access to technical support.
"Our new agreement with Pro-Vision Distribution enables us to provide our people and vehicle access products through a respected and established partner offering next day deliveries to stock items," said Steve Greenaway, Business Development Director at Nortech Control Systems. "This structured approach enables us to build a more formal distributor network than we've previously had in the past."
Peter Ford Managing Director of Pro-Vision said: "Pro-Vision is delighted to join the Nortech Distribution Partner Program and we are ready to provide our customers with immediate sales and support across the full range of Nortech products".
With the issue of safety continuously in the spotlight, Nortech Control Systems has also recently announced a series of specialist training courses.
Existing and new customers are being invited to enrol on training courses specifically covering parking management, long range identification and access control. The three product training days will provide participants with detailed, hands on experience.
Designed to ensure that installers are equipped with the skills and knowledge to smoothly install, maintain and troubleshoot systems, the courses are led by experienced technical experts. Training is free to all of Nortech's existing account customers and every participant will receive a pack of product specifications, application notes and a certificate of accreditation.
Stephen Blackler, Managing Director of Nortech said: "Our detailed product training courses are tailored to meet our customers' demand for an increase in technical knowledge and practical experience of our products. The range of security challenges that we face as a society continue to be a concern for our customer base, and these technical courses and sales days will provide customers with the in-depth training and skills they require to successfully install, maintain and troubleshoot Nortech systems in their line of work."
The remaining course schedule includes:
Long range readers and ANPR: Tuesday 10th January 2017
Access control and Norpass3: Tuesday 14th February 2017
For further information on the Nortech training courses contact: 01633 485533