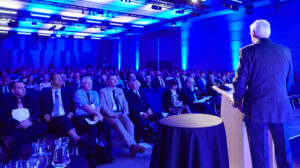 The National Security Inspectorate (NSI) has announced that the 2019 NSI Summit will be held on the Thursday 21st March at The Vox Conference Centre in Birmingham and will be supported again by IFSEC International organiser UBM.
The Summit features and exhibition and a speaker programme emphasizing that the key to successful outcomes in security and fire safety lies in strong partnerships between stakeholders, security and fire service providers, and their customers in the private and public sector.
As a Summit partner since the event's inception four years ago, UBM's increased commitment to the sector is reinforced in taking on the full logistics and organisation of the event.
Richard Jenkins, NSI Chief Executive commented: "We are looking forward to delivering an enriched experience for all delegates and exhibitors whatever their areas of expertise and interest, and with UBM support and insight, the 2019 Summit will be the best ever."