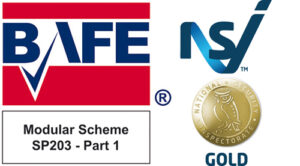 The National Security Inspectorate (NSI) has announced the milestone of recently certificating its 500th fire approved company for a BAFE scheme.
The 500th NSI approved company to be registered with BAFE is LogiScan Fire and Security based in Wellington, Somerset having achieved NSI Fire Gold approval to the BAFE Scheme SP 203-1 for Fire Detection and Alarm systems. LogiScan Fire & Security also holds approval for NACOSS Gold.
Paul Cavill, Engineering Director, Logiscan Fire & Security commented: "We are very proud that our approval to the BAFE scheme is a milestone for NSI and BAFE as well as being such a significant achievement for our own team who have worked so hard to achieve this. "
"We are committed to delivering high quality fire and security services and value the third party scrutiny of our business and technical competence.  The NSI audits have established a continuous improvement culture within our business and their feedback helps to drive our business forward."
NSI is licensed by BAFE, the national, independent registration body for third party certified fire protection companies, to deliver a range of its fire-related third party certification schemes.  These include Fire Detection and Alarms (SP203-1); Fixed Gaseous Fire Suppression Systems (SP203-3); Emergency Lighting (SP203-4); Contract Maintenance of Portable Fire Extinguishers (SP101) and Life Safety Fire Risk Assessment (SP205).
"It is immensely encouraging to see the continued strong growth in third party certification from NSI across the whole range of BAFE schemes. Our collaborative commitment to quality and competency within the fire industry is developing all of the time and we look forward to many more years of active support to help create a safer UK from fire," said Stephen Adams, BAFE Chief Executive.
NSI's Chief Executive Richard Jenkins added: "Congratulations to LogiScan Fire & Security on achieving their NSI Gold and BAFE approval."