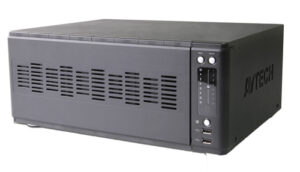 The AVTECH AVH8516 NVR available from Traders Warehouse is a 16-channel recorder featuring H.265 technology enhancing the recording capacity and bandwidth saving for optimum efficiency and performance.
The unit also features "Scenario" which allows the customisation of a series of actions which will be run automatically after the specified event occurs. There are several scenario templates for choosing when and what to do after a specific event occurs.
Using the Eagle Eyes App push video sends instant notifications for an alarm event when an alarm device is connected to the DVR and push status sends instant notifications for system events, such as video loss or HDD data removal.
To solve the large storage requirement of 4K recording, the NVR supports up to 8 hard disks to keep H.265 video data without overwriting data so quickly. A power-saving mechanism is also adopted to reduce power consumption.