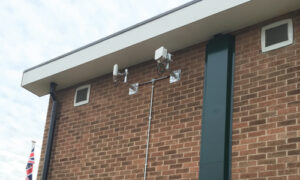 Siklu was recently selected by Oakham Council to provide the wireless connectivity solution that ensures uninterrupted streaming for the new town-wide, high-definition surveillance system.
The town of Oakham, located in Rutland, required an infrastructure that could accommodate the bandwidth of the town's new capacity-heavy video surveillance system that includes several HD video surveillance cameras strategically positioned around the town centre. With assistance from system integrators Trellisworks and Quadrant Security Group, the Oakham Council chose Siklu's EtherHaul-500TX millimeter wave radio for aggregation of camera data that is transmitted to the video management system and NVRs.
"A standard 5GHz frequency wireless link is no longer sufficient for moving the bandwidth-heavy data generated by several high definition cameras across a wireless network like Oakham's," said Nick Metcalfe, Technical Sales of Trellisworks. "For Oakham, the high-capacity 60GHz Siklu solution was critical to the success of the new surveillance network because it provides the speed and reliability needed at a much lower cost than renting a telco fibre connection, and with an installation time of only 30 minutes."
The Siklu link used by the town connects a range of Axis and Redvision cameras with a video management system and several network video recorders from Milestone, which together have been deployed throughout Oakham to monitor street level activities and the town's council facilities.
Oakham's Siklu solution maintains interference-free carrier-grade 99.999% availability and town officials anticipate a complete ROI for the Siklu solution within the next two to three years.
"It is gratifying for Siklu to provide an easily-deployed solution for towns such as Oakham that seek the security afforded by HD quality video surveillance, but for whom the availability or cost of fibre is prohibitive," said Zeev Farkash, VP of Global Sales at Siklu.