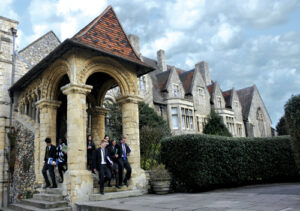 Situated on a World Heritage site within the Precincts of Canterbury Cathedral, The King's School, Canterbury is England's oldest school, dating from 597AD. The school estate includes a diverse mix of old and new architecture, ranging from medieval Grade 1 listed buildings to brand new premises. Unlike many schools, which typically occupy a single site that can be enclosed with relative ease, the King's estate includes around 220 separate buildings. They are dispersed across a wide area, many within the public Cathedral grounds and others isolated further afield.
In 2015 the school management team undertook a review of all aspects of security, from safety policies to major incident planning. At the time security was dependent on disparate analogue CCTV systems plus a range of hardware and software from multiple vendors. The school instead wanted a converged surveillance infrastructure unifying systems from a single manufacturer to ensure seamless capability across all sites. However, there were significant challenges, including logistical, engineering and regulatory restrictions on fitting new wiring and equipment within the historic buildings, some with very thick stone walls. Department of Education (DoE) controls on surveillance in schools also had to be observed.
Sunstone Systems designed and delivered a customised surveillance solution built around a core base platform with IDIS equipment and software. The solution comprises a mix of 120 cameras from the IDIS fixed range, including dome cameras, network video recorders and all the associated software required to deliver an integrated surveillance infrastructure. Combining unobtrusive IP cameras with IDIS software ensured that images could be achieved by running HD TVi over existing coaxial cables, reducing the need for extensive rewiring. This in turn eliminated the need for engineering work in old buildings, helping to contain costs while meeting Historic England's requirements.
Commenting, Lee Connelly, Security Manager at The King's School said: "Safeguarding students is our top priority so we need surveillance we can trust implicitly. [The system] does everything we wanted and more to protect students, the school and our reputation for responsible stewardship. What's more, it provides all the flexibility we will need to meet our security requirements as they continue to evolve."