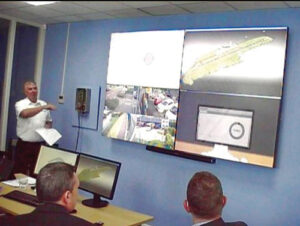 Following the international launch of its next generation of products at Intersec in Dubai, Titan recently held an Open Day to introduce Titan View, Titan Vision, and Titan Sigma to the UK audience and have some fun whilst doing so.
For the dignitaries and invited guests there was time to take a tour of the facilities in the custom designed premises in the Cambuslang Investment Park, to sample Scottish hospitality and to take a closer look at the latest developments.
Following an introduction from MD Jay Shields, the guests joined John Downie and Graeme Anderson in the demonstration room for an in-depth look at the technology.
John Downie Sales Manager said:  "Demonstrating the latest edition of Titan Vision to such an important group of people was extremely daunting. However, I could tell from the level of interest and comments from the floor that the audience was extremely interested and impressed. For some this was the first opportunity to see a fully functional PSIM solution in action and for other an opportunity to focus on particular requirements both technical and commercial".