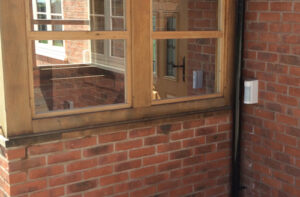 Optex has worked with Amron Security to protect an isolated residential property in a rural location in the West Midlands. Exposed on all four sides by main roads and fields, the owner was concerned that the property, including detached garages, would be a vulnerable target for intruders.
Paul Bishop, Contracts Manager and Senior Installer at Amron Security, was at first sceptical when Optex proposed using wireless PIRs: "As an installer I feel more comfortable using outdoor sensors only when alarms can be visually verified remotely, as it is far from ideal for false or nuisance alarms to trigger with no possibility for verification," he says. "However, I haven't experienced any false alarm problems with the outdoor PIRs, which have performed flawlessly."
The PIRs specified for the job include five of VXI-R and two FTN-R sensors. They are both battery-operated outdoor detectors that wirelessly connect to a Ricochet-enabled alarm panel via Optex's recently launched Ricochet-enabled wireless transmitter, the BGR-01, which is fitted into the back of each sensor.
The VXI-R sensors have a 12m wide angle of detection, while the FTN-R sensors provide a shorter – up to 5m – detection range in a curtain-like pattern. Combining the two variants therefore provides the optimum defence.
Amron Security maintains the sensors and provides a remote monitoring service; it is automatically informed if an alarm occurs. "Since the installation in 2016 there has not been a single false alarm," Paul adds. "The technology has performed to such a high standard that my PIR concerns have been mitigated.
"My concerns over battery life have also been dispelled, since it is now more than 18 months since the first detectors were installed and they continue to work without interruption."
Jacques Vaarre, Managing Director of Optex Europe, EMEA headquarters, says: "The stability of our outdoor PIRs is paramount – and that they are so reliable to change the opinion of industry experts is very encouraging."