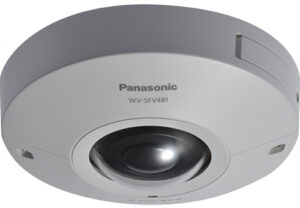 Around 40 security dealers, integrators and end users joined Panasonic for the UK launch of its 360°, ultra high 4K resolution surveillance camera. The event, held at the Panasonic Solutions Centre in Bracknell, was the first opportunity to see the Ultra 360° cameras (WV-SFV481 and WV-SFN480) in the UK.
The event featured three of the new 360° cameras installed in different parts of the building, along with a control room setup. The live camera footage was displayed on a 2×4 video wall configuration using Panasonic's 55" LFV50 professional displays.
The live demonstration included the camera's analytics features, including heat mapping and people counting. The Moving Object Remover (MOR) feature was also demonstrated, which makes moving objects, like people, appear as a translucent silhouette so the area behind them is still visible, ideal for data capture while protecting privacy.
Panasonic Product Marketing Manager Gerard Figols, said: "The outdoor model is the first 4K 360-degree day/night camera with Auto Back Focus (ABF) saving installation time, cost and maintenance, and delivering extremely high image quality even with temperature shifts. The camera is also water proof and vandal resistant, making it suitable for both indoor and outdoor use.
"It is highly versatile surveillance camera which can offer excellent performance to many businesses. What's more, the intelligent analytics feature gives organisations the power to gain more out of their surveillance cameras than just security."
The camera is described as having strong low light performance (the 1/1.7" sensor operates down to 0.05lx in black and white mode enabling real day/night switching) providing an ideal 24/7 surveillance solution. This is accompanied by a 4K engine, providing clarity at the centre and the rim of the image.