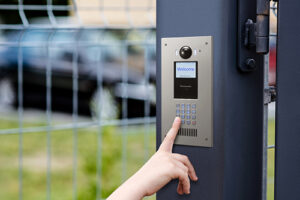 Panasonic has launched a new IP video intercom system aimed at meeting the demand for integration between different building systems. The VL-VN1900 works with a range of devices, including networked CCTV cameras, SIP phones and network video recorders.
Using PoE the system can be connected using a single cable, reducing installation complexity and cost. The system supports up to 2,000 SIP devices using standard PoE, with the addition of a control box.
Ye-Un Lee, Marketing Manager for Panasonic Video Intercom, said, "Many new developments already have IP-based cabling installed as trunk lines, making IP video intercom systems comparatively straightforward to install. The IP-based system meets the demands of a large busy apartment building, as the system can support multiple sessions at once, unlike incumbent analogue intercom systems. For larger developments IP is also a major improvement because it can support many more devices."
A new room monitor is also being launched as part of the system. The VL-MN1000 is a 7-inch LCD capacitive touch screen which connects to a Panasonic IP camera, as well as integrating with electronic locks enabling access control straight from the monitor.
The IP video intercom system also includes new door and lobby stations, with a wide angle camera and RFID reader for entry cards, supporting for up to five cards per resident. Reception mode also gives the option for incoming calls to go to reception rather than to individual residences, giving peace of mind to residents – particularly overnight. There's also recording functionality, incorporating video and sound as well as still imagery.