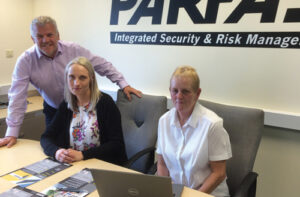 PARFAS has appointed three new members of staff, strengthening the leadership team, additional monitoring station staff and business administration.
Phil Thomas has been brought in to head up the Operation and Business Support Team, Carol Thomas into the Monitoring Station and Leanne Ordano into business administration.
Phil, who has over 25 years' security industry experience, has vast fire, CCTV, access control and intruder alarms knowledge. Well placed to generate sales he also brings project management and operations experience with him.
Carol has owned her own business for the past twelve years running a licensed premises says: "I'm really enjoying the change."
Leanne who works part time has joined on a temporary contract to assist with the integration of a new CASH service database, has been a full time mum for several years is loving being in work again!