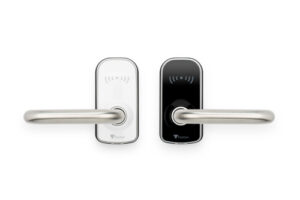 Paxton has announced the launch of the PaxLock Pro, the latest addition to its range of wireless access control solutions, in conjunction with the new Net2Air bridge, the connector to the Net2 wireless range.
PaxLock Pro has a universal design that can operate in standalone mode or as part of a networked system. There is a simple upgrade path from standalone to networked, with no extra hardware required that creates a solution which can evolve with the needs of the customer. There are both internal and external versions available.
It is available in black or white complete with anti-scratch fascia ensuring that the product maintains a high-quality look and feel for even the most modern of interiors.  The PaxLock Pro kit comes ready to fit, meaning it can be installed quickly and can replace an existing door handle.
Paxton's new Net2Air bridge provides the wireless communication link between the Net2 software and wireless control units, such as the PaxLock Pro. The improved aesthetics facilitate its positioning on a wall or ceiling for optimal coverage, and the low profile design provides a clear display of the status LEDs. It is also described as easy to fit with a three-step installation process.
Gareth O'Hara, Paxton's Chief Sales Officer, says: "The PaxLock Pro represents Paxton's third generation of wireless door handle and comes as a direct response to customer feedback, following two-years in development; we believe it is our best yet. The versatility of the product allows us to address networked and non-networked systems, internal and external doors. The launch of the Net2Air bridge perfectly complements the PaxLock Pro with its aesthetically pleasing design."
UK Showcases
For those interested in learning more about Paxton's Net2 range, including the new PaxLock Pro and Net2 Air bridge, there will be UK-wide showcases taking place at multiple locations throughout October and November. Experts will give tips on selling to different vertical markets and installers can get to know the system with hands-on product demonstrations. All companies in attendance will receive a free copy of the Net2 Pro Software. To secure your space, please follow the link  here