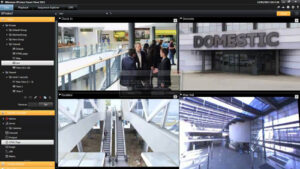 Paxton has announced the integration of its networked access control system, Net2, with Milestone Systems' newest video management software (VMS). The integration allows the user to display access control events and monitor video surveillance cameras from the, Milestone XProtect Smart Client.
Paxton has developed a plugin using Milestone's MIP SDK 2016 that can be added to the Milestone XProtect (VMS) linking Paxton Net2 access control information to the Milestone XProtect Smart Client interface.
The integration associates cameras with doors and displays real-time video footage as video events and access alarms occur. The software can be configured so pop up notifications instantly gain the operator's attention to an event of interest. Doors can be locked or unlocked from the XProtect Smart Client interface, where user information and events can be displayed to provide visibility to the operator on who is accessing areas throughout a site.
Thomas Lausten, Vice President EMEA at Milestone Systems, said: "We are very pleased to strengthen the partnership between Paxton and Milestone. We look forward to working with our common channel partners in all EMEA markets to explore the many benefits this will provide for end-users integrating Milestone VMS and Paxton access control."
Gareth O'Hara, Paxton's Sales and Marketing Director, said: "We are delighted to work again with our long standing partner, Milestone, and believe this feature rich integration provides a solution that meets the needs of many specifications we are seeing in the market. We hope our customers agree, and look forward to receiving feedback."