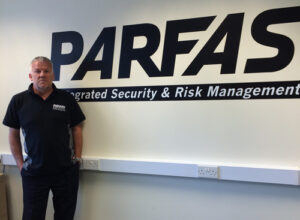 Oldham security monitoring company PARFAS has appointed a new Operations and Business Support Manager, Phil Thomas.
With over 25 years' experience in the security industry Phil is well placed to head up the Operations and Business Support Team at the company. He has a vast knowledge of fire, CCTV, access control and intruder alarms and brings sales, project management and operations experience with him.
Mike Braddock, CEO for PARFAS said: "As the business is expanding we've created a new role in the Operations and Business Support Manager.  With Phil joining and picking up the operational mantle we know he will be a great addition to the business by supporting us with our growth plans and will be helping to develop new opportunities for us."
Phil says: "I'm looking forward to the challenge in helping PARFAS to grow and embrace new technology.  It's not just about new technology but applying the new technology too, enabling us to provide a better service for our clients."
Phil has worked in engineering all his working life starting out as an apprentice for BNFL and  working as technical manager for various distribution companies but claims his strengths lie in organisation and project management.