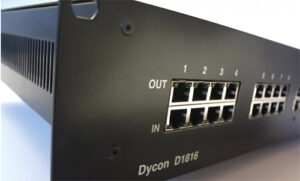 Dycon Power Solutions has issued a word of warning to installers of security systems on the pitfalls and benefits of using Power-over-Ethernet to drive security devices.
Power-over-Ethernet (PoE) provides a certain amount of power to drive local peripherals over existing network cabling removing the need to provide separate power supply units adjacent to those devices. Installations are easier if you don't have to fit 230vAC spur points all around a site simply to power the PSUs that are required just to power peripherals such as intruder detection devices, CCTV cameras, access control readers, in fact, anything that needs 12Vdc or 24Vdc. If you are running a network cable to a device you don't need any other power, the same network connection can give you up to 35W, more than enough to power most cameras and many other devices
But according to the company, installers should be careful as they could easily select the wrong PoE solution.
"You will find many products including switchers and controllers that will tell you that they are PoE-enabled, but you need to check, carefully, the actual power delivered or you may find that you don't have enough available to drive all your devices!" says Tony Makosinski, Commercial Director at Dycon Power Solutions. "Installers often find that a system that claims it 'can power eight or twelve devices' actually struggles to cope with even half that. To be really sure, choose a Mid-span solution."