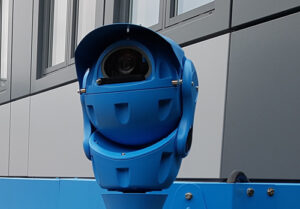 Redvision has played an important part in the protection of Bournemouth and Poole FE College, which has recently received a £12 million investment for upgrade and modernisation of its campuses. The project included constructing brand new buildings to house a Digital Media Centre, a Performing Arts Centre and new science laboratories, as well as upgrading and renovating existing buildings across both college sites. The campuses are used by a combined student population of over 10,000, so are extremely busy throughout the academic year. The project also included adding new roof panels to generate solar electricity for the college, supporting the local authority's commitment to improved sustainability.
Secure Alarms is responsible for installing and maintaining the college's security systems. Secure Alarms selected Redvision to supply all external PTZ cameras.
The newly-overhauled college site at Poole has 39 indoor cameras and 16 outdoor cameras, eight of which are Redvision PTZs. The Bournemouth site has 29 indoor and 25 outdoor cameras, five of which are Redvision units. Most of the indoor cameras are IP and from Dahua. These were positioned to monitor corridors, hallways and other busy public areas within the college. Secure Alarms used analogue cameras outdoors, to take advantage of existing coaxial cabling infrastructures, which were re-used to keep costs down and building alterations to a minimum. The outdoor cameras were the X-SERIES, RVX18, rugged PTZ dome cameras, with infra-red night-vision to 120m for 24/7 security surveillance. They were also mounted using customised, extended corner brackets, for optimal site coverage from each camera location.
Rob Cutler, Director at Secure Alarms, added, "We realised that the standard connection leads were not long enough to reach the outdoor cameras in our customised brackets. Redvision solved this issue with longer leads, which they delivered within two working days, allowing us to get on with the installation efficiently and effectively. In addition, the company also helped us with pre-sales demonstrations and support when we were initially specifying the system."