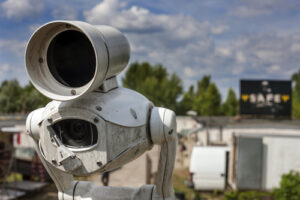 360 Vision Technology is celebrating a starring role for its Predator 'all-in-one' PTZ camera range in The White King, a feature film coming to UK cinemas in late January 2017 from Signature Entertainment.
A sci-fi drama featuring Jonathan Pryce, Agyness Deyn and Lorenzo Allchurch, the film is set in a dystopian world and revolves around a 12-year old boy who is coming to terms with his father's imprisonment by a totalitarian state. The film follows the young boy and his mother as they try to navigate through propaganda and government abuse, as they risk everything to reunite their family.
"Used in many scenes throughout the film, we employed the powerful aesthetics of 360 Vision Technology's Predator camera to help establish the atmosphere of the social structure in the world of The White King," explains Director of Photography René Richter. "The film depicts a world where ordinary citizens are not allowed access to any form of technology, and where the technologically equipped elite control society. We found the futuristic and rugged appearance of the Predator cameras perfect for their role in the film."
Shot on location in Hungary, 360 Vision supplied the filmmakers with black and white colour versions of the Predator camera, camera control equipment, and provided training for the film's production staff on how to operate the cameras.
"360 Vision Technology is thrilled to have had the Predator camera chosen to appear in this compelling film," says Mark Rees, Business Development Director at 360 Vision Technology. "The Predator range of cameras is available in a number of technology versions to fulfil any HD, Hybrid, Thermal or Radar requirement. For The White King, we supplied the filmmakers with a number of brand new TC100 Cooled Thermal/HD Predator cameras, which were then cosmetically 'outdoor' weathered to make them look used!"
View the film trailer and Predator camera in action here