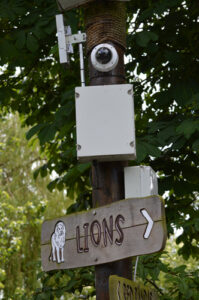 NW Systems has designed and delivered an IP camera system which transmits video from nearly 300 Axis cameras to a new centralised control room at Chester Zoo. The IP video system enables the zoo's security team to spot and act on all threats quicker than was previously possible. Cameras have been deployed to help tighten perimeter security, improve health and safety monitoring, and support keepers in assuring the welfare of animals in their charge.
NW Systems initially replaced approximately 60 faulty CCTV cameras with the Axis cameras, then networking all remaining CCTV cameras using Axis M7016 and M7014 Encoders. A total of 160 new cameras were then installed and networked across the original or 'core' zoo, The Islands and elsewhere, together providing coverage site-wide.
Axis P3225-LVE cameras were installed across the Islands. These cameras were sited inside and outside new animal enclosures. In addition, the newly centralised control room was fitted with video management software (VMS) from Milestone Systems.
NW Systems also provided increased coverage across the recently-renovated Jubilee Quarter, the zoo's main entrance and large car park serving it. The systems integrator installed several Axis Q6000-E PTZ dome network cameras, alongside Axis C3003-E outdoor network horn speakers, clamped onto existing lighting masts throughout the car park.
This enables the zoo's security team to monitor activity around the 1000-vehicle capacity car park, for the protection of visitors and their belongings. The loud speakers can be used to transmit live messages to arriving visitors to guide them towards the entrance and to deter any potential wrong-doing.
The installation solved a specific concern of the zoo's lead elephant keeper, Andy McKenzie, associated with remote opening of the large gates used to let the elephants out of the zoo's elephant house into the wide-open habitat and back in at night. NW Systems engineers installed several five-megapixel Axis P1357-E network cameras alongside the existing remote door control system, to provide live views on both sides of the doors.