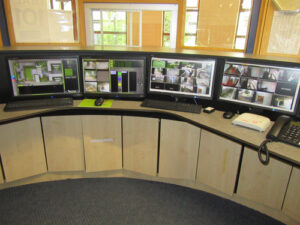 A new Concierge and Physical Security Information Management (PSIM) solution from Intergrated Security Manufacturing (ISM) is protecting two tower blocks in Haringey, enabling authorised council employees to control door access and manage fire and security systems from anywhere within the council's estate.
Newbury House, Finsbury House, John Keats House and Thomas Hardy House in Wood Green, London, already feature four of ISM's Ultimate door entry systems as well as another two, third-party technology systems (Elizabeth Blackwell and George Lansbury) from Entrotec, utilising its Apex Dual path speech technology. Thanks to the Genesys PSIM from ISM, multiple technologies can be controlled, regardless of the manufacturer, providing enhanced security to residents in 510 flats across the six towers.
Genesys allows the integration not just of door entry systems, but also multiple systems from multiple manufacturers – all from one holistic integrated security system. Every electronic security or fire safety device can be monitored and controlled from a single platform.
Such was the complexity of the project, that from initial design of the system to completing the installation took around two years to complete. Fire alarms, access control and CCTV can all now be controlled from one computer from any of the Council's network.