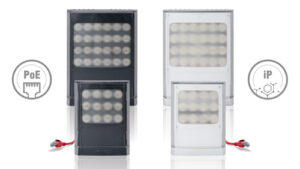 Raytec has launched two new product lines, VARIO 2 IP and VARIO 2 PoE will provide purpose built lighting solutions for network applications and sit alongside the existing range of VARIO 2 illuminators. Both new product lines feature Platinum Elite LED technology from Raytec, reportedly delivering up to 200% more power, distances up to 500m from a single LED panel and more light output.
VARIO 2 IP is a range of IP addressable network illuminators that can be operated remotely via a user friendly GUI or be integrated with third party platforms or network devices to deliver an automatic lighting response to different events or alarms.
VARIO2 PoE is a new range of illuminators that can be powered from an existing network infrastructure, without the need for an additional PSU, minimising the cost and time of installation.
David Lambert, Raytec's Managing Director (joint) said: "Lighting is only going to become more intelligent and further integrated into security systems over time and we are excited to be at the forefront in network illumination."