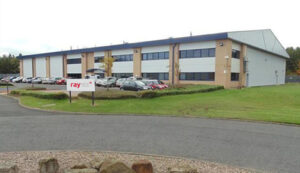 Having outgrown its current premises, Raytec has announced that it has moved to a new, bigger facility. The move to the 30,000 sqft UK premises in Ashington, Northumberland supports the company's plans for continued growth– providing nearly three times the amount of space for expansion and brings all manufacturing, R&D, software development, quality, technical support, lighting design, sales and marketing under one roof.
"We have always been proud that all of our illuminators are designed and manufactured here in the UK. We started out in Ashington over ten years ago and we're thrilled to be moving to our new premises and staying in the local area – just 100 metres down the road in fact!" comments David Lambert, Raytec Managing Director (Joint). "Crucially, the new move will allow us to tackle more challenging projects, provide quicker lead times for our customers, with the flexibility to respond to market demands for more intelligent and bespoke solutions."
"Outgrowing our current premises is an exciting prospect for Raytec, and this move is another step along that continuous journey of development and growth" adds David. "We truly want Raytec to be an enjoyable and productive place to work. We will continue to invest in our facilities to ensure they provide an excellent environment so that our team can collaborate, work and share knowledge more effectively for the benefit of our customers.
"We'd also like to take this opportunity to thank all customers, suppliers, alliance partners and friends of the company for their support over the years," says David. "Our close partnerships, joint ventures and technology integrations have played a vital role in our success."