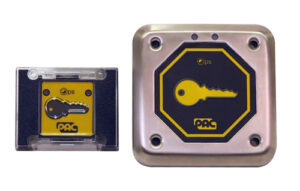 PAC has launched two readers to the Oneprox GS3 range which effectively combat the growing issue of token cloning.
Unauthorised cloning of access control tokens has been a constant concern in the residential and commercial markets. Programming units which are able to copy the information from an existing token to a third party token are easily available for purchase and many key cutting businesses offer a token cloning service for a small fee. This makes it extremely hard for housing providers and institutions to monitor and prevent unauthorised entry.
When used in conjunction with the PAC 512 controller, the new PAC HF Vandal and HF Panel readers are certified to meet the AES-128 standard and incorporate PAC's Oneprox Smart (Ops) technology as well as reading protocols MIFARE and DESFire EV1. PAC's Ops reading protocol uses true 64bit encryption ensuring only an authentic token is used before granting access, making token cloning virtually impossible.
The Oneprox GS3 HF Vandal and HF Panel readers also offer a solution to new or existing access control applications, allowing for simple on-site configuration via the built-in switches to support multiple output formats. This means that there is no need for programming cards or specific readers when installing, making them a truly scalable, dynamic and secure solution to any residential or commercial application.
Featuring a durable stainless steel and polycarbonate case, the Oneprox GS3 HF Vandal Reader is NSI accredited and houses a built-in tamper switch making it ideal for vandal-prone installations in elevators, schools, car park reader posts and other unsupervised public places – both indoors and out. The Oneprox GS3 HF Panel Reader features a robust housing and is designed to fit many OEM door entry panels. The two new readers also come with a lifetime guarantee against electronic failure for extra peace of mind.