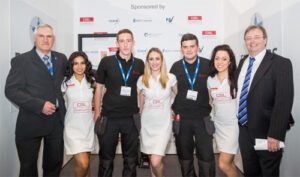 Are you good enough to compete against your peers for the chance to win top prizes, industry recognition, and potential credits towards your level 2 or 3 NVQ portfolio?
Engineers of Tomorrow, the UK Apprentice and Young Engineers Competition 2015 will celebrate its 17th year at IFSEC International 2015 in June. At the heart of the installation apprentice and young engineer industry, the competition will provide participants with a global stage to compete against their peers and represent their company.
Competitors will undertake a 90-minute assessment, reviewing a previously installed intruder alarm system, identifying the faults, re-commissioning the system and finishing with any additional security and safety measures.
Each entrant is marked by a panel of judges from the security inspectorates, training and commercial organisations, and points are allocated based on performance in the various disciplines.
Reasons to compete
Prove your skills on an international platform
Win one of the top prizes
Potential to gain credits towards your Level 2 or Level 3 NVQ Portfolio
Increase your employability and raise your profile in the industry
Employer benefits
There are also many benefits for employers in putting forward their apprentices to take part in the competition.
Not only will participation highlight the company's skilled workforce, but it will also give great exposure to the IFSEC International audience. To nominate your apprentice please click here.
Competition supporters
Engineers of Tomorrow 2015 is supported by CSL Dualcom, Skills for Security, NSI and SSAIB. The prizes are:
First Prize: £1000 cash per team
Second Prize: £500 red letter day voucher per team
Third Prize: £300 cash per team
Enter here