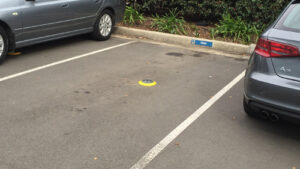 At the Australian headquarters of a discount supermarket chain in Minchinbury, NSW a parking guidance system was required to indicate the available parking bays in the car park and outdoor parking area. The system needed to be accurate and very quick in displaying the number of available parking spaces at various locations around the car parks.
Holman Engineering implemented a solution which uses optical sensors above each parking bay to determine the status of each parking bay for the indoor parking spaces.  Nedap's SENSIT was applied to monitor occupancy of the outdoor parking bays. SENSIT consists of wireless parking sensors that detect in real-time whether or not the individual parking bays are occupied and how long they have been occupied. The SENSIT Surface Mount is a vehicle detection sensor that is glued onto the surface of parking bays.
The real-time occupancy information on all parking bays is displayed on several displays along the road. These displays indicate the number of available parking bays for visitors and in the general car parks and the web interface on the Holman system allows the user to create different reports, as well as see the status of the car park graphically.