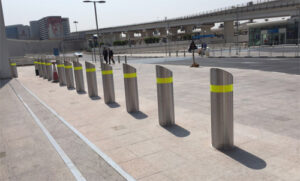 ATG Access began exporting ten years ago from its St Helens headquarters and since then the company's export business has increased 30-times in value and now supplies 42 countries, manufacturing security products across five different global locations.
The business' Asian success comes two years after it started targeting the Japanese market in earnest, and its new projects now include a power station in Western Japan and a sports stadium. Nearby to this region, ATG has also secured a project to protect one of the busiest areas of central Shanghai, and to the south, work is currently underway to install hundreds of bollards to protect the latest developments around Changi Airport in Singapore and Datacentres in Thailand.
The Middle East continues to be an important focus area for the company and ATG has completed several millions of pounds worth of projects in the last year across the Gulf Region, including Terminal 3 at Dubai International Airport and new industrial cities in Saudi Arabia. Export sales from Europe are also growing in light of recent terror attacks, and new projects in Belgium, Amsterdam and Paris highlight the demand in the western part of this continent.
Revenue from exports continues to grow and the company aims to surpass £10 million worth of sales per annum in the next year.
Glenn Cooper, CEO of ATG Access, said: "It's no surprise that worldwide interest in security has increased in recent years, and we're proud that British design and innovation is playing a major role in keeping people safe. We hope our example can be an inspiration for other UK firms."
ATG Access is now planning its next wave of international expansion, which has already seen it involved with international projects such as the Ann Frank House in Amsterdam, the Heart of Doha, Los Angeles International Airport and holiday developments in Indonesia.
Glenn Cooper concludes: "The world has enormous respect for British design and ingenuity. We should take great pride in our abilities and look at how we can use these skills to both grow our businesses and make the world a better and safer place."