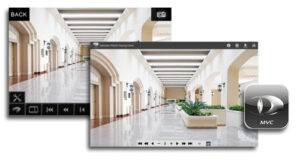 The DMVC smartphone App for mobile access to Dallmeier systems is now available for Android devices. The App "Dallmeier Mobile Video Center" (DMVC) enables mobile access to Dallmeier systems such as a DVR, NVR, server, camera etc using a smartphone with Android or iOS operating system. Users can access the live video as well as the corresponding recordings while away from the source. Transcoding prepares the video for display on the smartphone and ensures a high frame rate at the same time.
The Dallmeier App has an intuitive operation including multi-touch zoom and allows individual settings for 3G and Wifi operation. Of note is the 3G download counter with adjustable limit allowing for efficient cost control.
For an optimal overview all cameras are shown in a list with preview images. The video resolution is freely selectable: QCIF, CIF, 2CIF, 4CIF or HD. A recording and snap shot function is available both in live and playback mode. For a quick and convenient access on current recordings, there is a separate daily-track, additionally an individual favourites list can be created. The request of system messages is also possible.