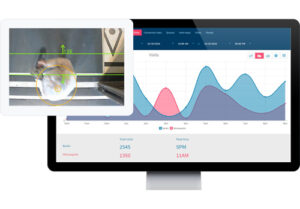 Genetec has previewed a new application designed to transform existing video surveillance content into consumer insights. The new Genetec Retail Intelligence application will filter and analyse incoming video surveillance data to produce actionable intelligence about store operations, buying patterns, and trends.
According to the company, armed with this information, marketing, operational and merchandising staff will be able to improve their customers' experience, increase consumer engagement, and positively affect in-store profitability.
By analysing and correlating data provided by multiple sensors such as video surveillance cameras and point-of-sale systems, Genetec Retail Intelligence is aimed at helping retailers gain a deeper understanding of their customers' behaviours, needs, and preferences to build a more personal relationship. With analytics such as queue management, heat mapping, directional analysis, people counting and conversion rate analytics, the solution can notify relevant staff in real-time to respond to an influx of shoppers in the store or within a specific department. The application will also inform store management when checkout lanes or changing room lines become long so they can reassign staff as necessary. Marketing and merchandising professionals will also be able to use the data provided by the application to refine their promotions and optimise inventory strategies, from within a single interface.
"There is a wealth of information collected by security systems that has gone virtually untapped until now," said Derek Arcuri, Product Marketing Manager for Genetec Retail Intelligence. "Our application will help retailers not only gain insights into store performance and customer buying patterns, but will generate powerful analytics-driven intelligence, delivered in a format that can be easily understood, interpreted and shared."
Genetec Retail Intelligence will be available via subscription and is reported to work with a variety of camera brands and will not require additional equipment.