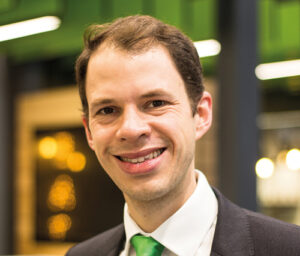 Paxton has appointed Richard Broomhead as Regional Account Manager for the Greater North London area and Northern Home Counties of Essex, Suffolk, Hertfordshire and Buckinghamshire.
Based near Enfield, Richard will be a local point of contact for installers in his region, ensuring they are aware of Paxton's product offerings to support with upcoming projects.
Richard joins Paxton with over ten years' experience in technology sales and account management. Previously holding roles at Thomson Reuters and IRIS software, he has worked with customers to understand their business requirements and help increase the efficiency of their operations.
Commenting on the appointment, Gareth Johnson, Paxton's UK Sales Manager said: "We're delighted to welcome Richard to the Paxton team. His depth of knowledge and experience will provide great value to our customers and support our growth and development plan across the UK."
Richard is excited about the opportunities working for Paxton will bring, stating: "I was keen to join the team at Paxton because I was impressed by the speed at which the access control market was growing and the quality of Paxton's solutions. I have been meeting with customers in my territory and Paxton's key partners in the industry to gain a better understanding of their business needs and how important access control is for them. I am looking forward to supporting my customers by keeping them up to date with the latest Paxton solutions, helping them to identify new opportunities in their existing customer base and upcoming projects."