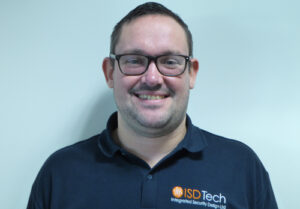 ISD Tech has announced the appointment of Richard Gates to the position of Life Safety Project Design Engineer based out of the company's headquarters in Camberley, Surrey.
Reporting to Managing Director, Nicky Stokes, Richard will be pivotal in supporting ISD Tech's life safety services offerings, working with both the sales and operations teams.   His appointment follows ISD Tech's 2014 expansion in include design, installation, commissioning and maintenance of fire detection systems.
Richard will be responsible for ensuring compliant and technically robust life safety systems design and will support the operations team during the full life-cycle of customers' life-safety solutions, from installation, commissioning through to on-going maintenance.  He brings with him nearly ten years' fire and life safety systems experience gained in project management and systems design roles where he was responsible for £multi-million projects across a range of industry sectors.  He has held posts at Alpha Peerless Fire Systems, Protec Fire Detection with his most recent tenure at Mansfield Property Maintenance.
Nicky Stokes, Managing Director, ISD Tech, added: "Richard brings with him a wealth of technical skills, an excellent understanding of BS5839 and experience of delivering complex projects in with demanding timescales both on time and on budget.  He will be pivotal in supporting both new and existing customers and ensuring we stay ahead of the curve on future regulations and compliance."