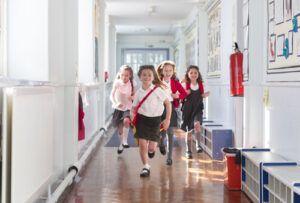 School leaders and authorities need to make building security the No. 1 priority, says Simon Osborne, commercial leader of Allegion
It's easy to think that school shootings, massacres and violence are associated purely with our neighbours across the pond. In the U.S., gun culture and high-profile cases – like a recent one at Ohio State University and the deadly 2007 Virginia Tech shooting that claimed 32 lives – are given global attention because of their prevalence. In fact, according to an article by Justin Carissimo published in the October 2015 issue of The Independent, school shootings in the U.S. were taking place once per week on average.
While this kind of school violence hasn't been common in the UK, and guns are much harder to access compared to the U.S., we still must be vigilant with our school security as the reality of these situations is that they can happen anywhere at any time. No country or community is exempt.
Indeed, the course of our own history can vouch for this. The deadliest shooting in a UK school was the Dunblane School Massacre of 1996, where 16 children and one teacher tragically lost their lives after a gunman walked onto school premises and opened fire. In the same year, a man plagued by paranoid schizophrenia gained access to St. Luke's Church of England infants' school in Wolverhampton, where he managed to injure three children and four adults in an attack.
The saying is that history has a habit of repeating itself, and it's done so recently. School teacher Ann Maguire was murdered by a knife-wielding student in 2014 as she was teaching a Spanish class. In November 2016, a 15-year-old student was stabbed by a group of people who had entered his school in Birmingham. What if, in both of these tragic cases, the attackers had intended to do more?
It's cases like all of these that highlight just how easy it is for would-be attackers to gain access into our current school buildings with minimal effort. It is also why we, as both the industry and the authorities, should make it our collective duty to prevent attackers gaining access, or lessen the damage they can do should they make it onto school premises.
Timed access
Access control solutions are now widely available in the door hardware market with a wide range of functionality. One of the most useful functions for schools, though, is the ability to permit entry during a designated period of time, and then lockdown those entrances automatically after that period of time has passed.
In effect, this means that when teachers and pupils are going in and out of schools during mornings, breaks and lunch times, entry points are opened automatically and locked to outsiders after.
Remote lockdown systems
One of the most difficult parts of being a school caretaker or facilities manager is locking down entry points, simply because of the sheer amount that there could be to a school.
To minimise the chances of unwanted intrusion, schools would benefit from having a central electronic remote locking system. Access control solutions can now be linked to all doors within a building and locked at the touch of a button. Control can also be given to other users within the building, so that responsibility can be divided between teachers, maintenance staff and office staff, if need be.
Latchbolt monitors
External security doors need to engage properly to be effective at stopping would-be intruders getting through. However, pupils often leave doors ajar or not latched fully, either because they haven't been taught to close the doors or, perhaps for younger children, they don't have the strength to close them.
A simple fix for this situation is to use latchbolt monitors. These work by sending a signal to a central monitoring station, giving confirmation of when the door is shut and secure.
Electronic panic exits
Panic exits have long been purely mechanical to allow users safe and secure exit from a building in a state of emergency and, combined with an outside access device, to provide a simple means of accessing the door externally. However, there are now electromechanical exit devices on the market that can integrate with electronic access control systems to allow monitored safe and secure access.
These make the panic exit points safer and more secure as you can add access control measures to those points, whether it is for pupils, teachers or both.
Delay no more
Understandably, security often falls to the bottom of the pecking order when budget and priorities are discussed on the UK school estate. Unlike our neighbours in the U.S., high-profile school violence cases on our shores are few and far between. Ultimately, this results in less awareness and importance placed on this issue.
However, we should not wait for a next occurrence to take action; it may be too little too late. A 2016 article by The Telegraph's education editor, Javier Espinoza, noted there's been a 90-percent increase in knives being brought to school by children. Unquestionably, the chances of seeing a victim, or even multiple victims, are now higher than ever before. The problem may not be a question of "if," but "when."